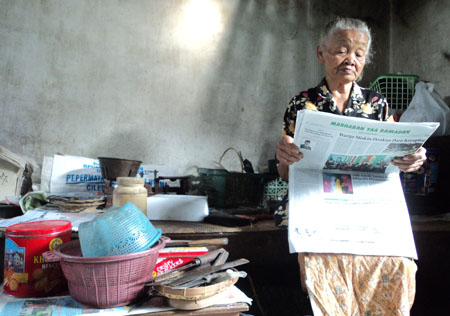 About the Project
The Ayo Membaca website offers a set of online, interactive reading lessons for Indonesian ranging from the novice to the advanced levels.
I gratefully acknowledge funding by the International Research and Studies Program of the United States Department of Education.
This set of lessons has been developed using authentic readings from the Indonesian mass media and schema theory as its pedagogical foundation. The three-fold objective of each lesson is to 1) teach reading strategies, 2) develop cultural and linguistic knowledge, and 3) move the student from the novice-mid to the advanced level on the American Council for the Teaching of Foreign Languages reading proficiency scale.
These interactive lessons provide a challenging and motivating environment in which learners are able to set their own pace (learner-centered) as they work through a variety of tasks and receive ample assistance and feedback. These lessons can be used either for self-study or integrated into a classroom setting where the teacher introduces the lesson and then follows-up on the post-reading exercises, reinforcing the language elements taught in the lesson.
This collaborative project was lead by Principal Investigator Professor Ellen Rafferty, Pedagogy Consultant Dr. Erlin Barnard, outside evaluator and consultant Molly Burns, consultant James Collins, and Consortium for the Teaching of Indonesian (COTI) members as collaborators in the lesson development process: Arti Wulandari, University of Wisconsin; Agustini, University of Michigan; Fanny Loe, National University of Singapore; Indriyo Sukmono, Yale University; Jolanda Pandin, Cornell University; Juliana Wijaya, University of California Los Angeles; Melisa Tjong, University of Wisconsin; Nona Kurniani, Johns Hopkins University; and Pauli Sandjaja; University of Washington.
The web design and implementation were completed by Xivic Incorporated.